This week I was posed an interesting question by a student undertaking research into the originality of landscape photography on the Jurassic Coast. His question to me was "To what extent will the rise of Instagram affect the originality of landscape photography on the Jurassic Coast over the next decade?" and here was my response.
To what extent will the rise of Instagram affect the originality of landscape photography on the Jurassic Coast over the next decade?
I think there are multiple factors that might influence the originality of landscape photography on the Jurassic Coast, and other iconic locations. The rise of digital photography and mobile photography mean that more and more people are capturing images of these iconic locations, so the originality factor becomes diminished; Durdle Door for example has been photographed countless times. On the other hand, technological developments such as drones are allowing photographers to photograph the Jurassic Coast from new and original angles, although you might consider this to be drone/aerial photography rather than landscape photography. It mind also depend on how you define landscape photography. Does a snap shot of Durdle Door by a tourist count as a landscape photograph? Or do you only consider professional photographers or 'pro-amateurs' wielding DSLR's to be those doing landscape photography? I previously published an article on the democratisation of photography, which discusses some of these issues.
A possible assumption is that social media and the increased sharing of landscape photos online encourages people to go and use their own equipment to take the same shot. I am sure this happens a lot and there are times when I have been guilty of the same. Again, you might argue that this diminishes originality. It should also be considered that every photograph has an element of originality as the conditions are different every time. Each image of the Jurassic Coast that you see, although composed in a similar way, will have different light, have been taken perhaps at different times of the year and will have used different exposure settings. The use of filters and post processing that takes place also add originality, such as the use of grad filters and HDR techniques. If you take the example of the sun rising through the arch of Durdle Door; it's an iconic shot that many photographers seek to replicate. If you search 'durdle door sunrise' on Google Images, you will see lots of similar images but all are also original and different. While the main subject remains the same, the conditions in each shot are different, compositions are different and the exposures are different (some long and some shorter).
So while there are now more photographers taking landscape images of the same / similar scenes, each image has its own originality. I think a common mistake made by some landscape photographers is to try to replicate an image irrespective of the conditions; by this I mean blinding recreating a composition even though the light and conditions perhaps don't favour that composition; these are the photographers that are likely to reduce the originality and creativity in landscape photography on the Jurassic Coast, and indeed other locations.
Instagram is a popular social media platform with photographers and I follow many other photographers. I do get inspiration from some of the images I see and at times I will visit the same locations; I may visit the same spot but I am more inclined to try and shoot for the conditions and find new compositions and perspectives. For me, landscape photography is more than capturing a view. I want to capture images that captures the mood and the essence of the place and that makes the viewer of the image feel as connected with the place as I did when I was there. I also want to captures images of landscapes that might not otherwise be accessible to people.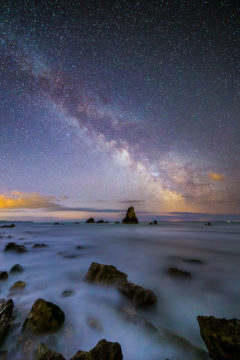 I recall one trip when I drove down to Lulworth in the middle of the night, walked a couple of miles over to photograph the Milky Way over Mupe Bay and then walked back to photography the sunrise over Lulworth Cove. You will generally only find photographers out and about at these unsociable hours and we are capturing landscapes that people recognise at times of the day that they would not otherwise see them. I would suggest the number of photographers willing to go to these lengths is more limited than your average photographer and so originality might be protected to an extent. That said, I was certainly inspired by images of the Milky Way over Durdle Door to get into astrophotography and this has led me to photograph the Milky Way, both at Durdle Door and other more original locations. I am sure that over time, more people will do this and you might argue originality is reduced. I have certainly noticed that Mupe Bay is becoming more popular with photographers and this is likely attributed to them discovering it through images they have seen online, or by talking to other photographers than have been there and recommended it.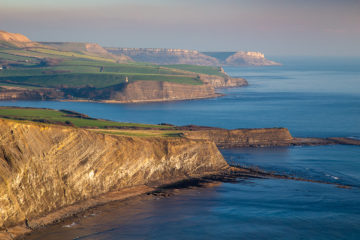 Kimmeridge Bay is another great example of where many photographers take the easy option and replicate photographs of Clavell Tower and the rocky ledges when the tide is out. I think social media does have a part to play in helping photographers find locations that are 'easy wins' where they can try and replicate photographs they've seen. I should stress that I'm in no way against photographers doing this; if they capture their own version of the image and it gives them pleasure then why not, it's a free world; these photographers may be using this as a way of learning and developing their skills in landscape photography. They may also end up finding new and interesting angles from which to photograph a location.
For me personally, I tend not to give too much thought to whether or not a scene has been shot before. There are times when I will shoot iconic scenes like Durdle Door and Kimmeridge Bay that are well photographed. I always seek compositions that suit the conditions and that suit my style of photography, rather than trying to recreate the work of others. I use platforms like instagram (and other social media), Google Image Search and even Google Earth to get inspiration and scout locations. My goal is to find compositions that help me capture the essence of the place. I might initially be drawn to a location with an idea in mind for a shot but will end up shooting something different. I have strived harder in recent years to find new locations, compositions and perspectives to maintain the creativity and originality in my work.
To summarise my answer to the original question, I believe Instragram has, to some extent, facilitated photographers trying to replicate each others work and reduced originality. I also believe that other social media platforms, photographer's websites, books and image search engines have contributed, and that is it not just Instagram that enables this behaviour. I think the increasingly affordable DSLRs and the democratisation of photography also contributes to the amount of replication of landscape images. In contrast, all of these factors have also contributed to a greater variety of images of the Jurassic Coast, inspiring photographers to exercise their creativity and capture images of this coastline using their own creative style.
In a decades time, Instagram may have gone the way of MySpace and the technology used for digital photography will certainly have changed. I think the human behaviours will remain the same. Photographers and enthusiasts will still be inspired by the work of others and some will seek to replicate and others will seek to differentiate. In a decades time, the landscape will also have changed, resulting in new and original work.