A Snowdon sunrise has been on my list of things to photograph for several years. I previously made the 4 and a half hour trip to Snowdonia in February 2018 with high hopes of capturing this iconic sunrise. It was a fantastic trip and a great adventure to climb Snowdon when it was covered in snow, but alas the weather was not on my side. Freezing rain, high winds and cloud made seeing more than 10 meters impossible, let alone seeing a sunrise.
Over the next year, capturing the sunrise from the top of Snowdon would be the one that got away and I was itching to get back there to give it another go. I set about planning a repeat trip. I decided to go for another long weekend but with the view that I would climb Snowdon each and every morning if I had to until I got the shot I wanted; I think I was crossing the boundary between dedication and obsession. I also opted to go in late March this time, in the hope that the snow would have largely cleared and that the chance of good weather was perhaps slightly better.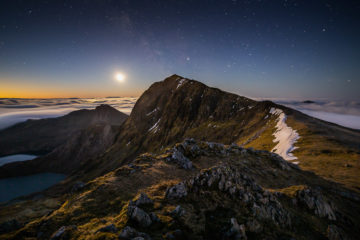 As the trip got closer I was checking the weather forecast daily to see what it was doing; things were looking good. The best conditions were forecast for the Friday morning, which is when I was planning to drive up. Determined not to miss the opportunity, I made the drive from Southampton to Pen-y-Pass on Thursday night, arriving at 2:30am to immediately start the climb up Snowdon.
I chose the same route as before, heading up the Pyg Track. This was easy to navigate (especially when it's not covered in snow!) and a route I felt very comfortable doing in the dark. In anticipation of a good sunrise, I ascended Snowdon somewhat quicker than I expected and made it to the top with a hour and a half to spare. As the moon came up it illuminated the cloud inversion that was occurring in the distance behind Snowdon, which was a bonus to be able to photograph before the sun started to rise.
I carried on shooting as dawn broke and then got myself into position for the sunrise. I knew precisely the shot I wanted, a panorama of the sunrise in between Crib Goch and the summit of Snowdon. Using bracketed exposures to capture the full dynamic range in combination with stitching shots together to form a panoramic meant that I wouldn't be completely sure if it would work out until I processed the images. The dedication (or obsession?) paid off and after a 12 month wait I was finally able to capture the exact shot of the Snowdon Sunrise that I had been after.