There is a lot of time to reflect on past trips while locked down during the Corona virus pandemic and it's hard to believe that it's been a year since watching my first Dunstanburgh Castle sunrise. Northumberland is steeped in history. It has more castles than any other county in England and is home to Hardian's Wall.
Northumberland had not been high on my list of places to visit because as a landscape photographer I have always been drawn to more mountainous areas such as the Lake District and the Highlands. Despite being fairly flat, Northumberland is certainly picturesque.
Getting to Dunstanburgh Castle
Parking up at a place called Craster, it's a flat and easy walk to reach Dunstanburgh Castle. It was quite refreshing to have such an easy route having climbed Snowdon a couple of weekends before. I was struck by the smell of coconut, which I later learnt to be the flowering gorse bushes that line much of the route.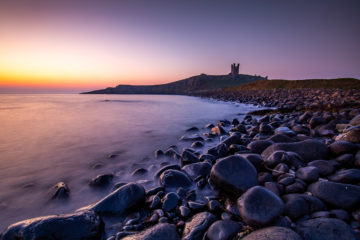 To capture the Dunstanburgh Castle sunrise shot that I wanted meant walking beyond the castle to the North Gate and photographing it from the other side where I could get down to the sea. When the tide is recedes far enough the foreground is filled with lots of shiny boulders, creating an interesting foreground that leads to the castle in the background.
There was no cloud in the sky on this particular morning, but the conditions were pleasant enough and I set up and waiting to see what would unfold. Getting to locations and setting up well ahead of sunrise is always far preferable to being rushed and I was glad of the opportunity to try a few different compositions.
Landscape photographers will often tell you that there is something special about having a location to yourself and to be able to enjoy watching the scene unfold in front of you. Unfortunately that was not going to be the case on this particular morning when another photographer, who I think might have been running a small workshop / tour, turned up with his group and proceeded to set up their tripods in a row next to me. I guess I should be flattered that they thought I had a good composition.
A subtle Dunstanburgh Castle sunrise.
On this occasion the Dunstanburgh Castle sunrise was subtle due to the lack of cloud but still managed to create a nice range of warm hues across the scene. It's a popular spot with photographers, as my experience of being joined by a small group of photographers demonstrated. That should not put anyone off visiting this beautiful location and it's well worth a few hours of lost sleep to be able to watch the sun come up.
Once the sun came up it was time to return to the car at Craster and drive back to where I was staying at Bilton Barns. Run by Dorothy and Brian who have farmed Bilton Barns farm since 1981, this B&B was very comfortable and a perfect location. Dorothy cooks a fantastic breakfast, which certainly hits the spot after a sunrise shoot.